Garminfone Sales Not Satisfactory, T-Mobile Slashing Price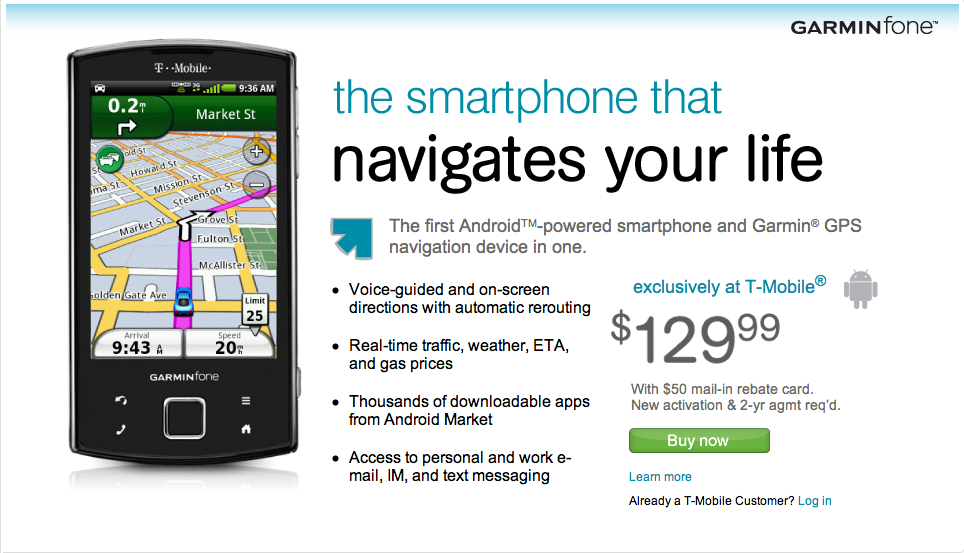 We've heard that Garmin-Asus and T-mobile"s navigation-savvy Android-powered Garminfone wasn't selling too well. Asustek denied such rumors and continued to run their Garminfone ads for all to see.
However, T-mobile has now dropped the price of the Garminfone from $199 to $129.99 after rebate on a 2-year contract. This is somewhat sad, as the Garminfone has only been available for a month. So it appears that Tmo may have bitten off a little more than they can chew with this device.
But, things could still turn around for the Garminfone. Its 3.5-inch multitouch capacitive screen, 3 megapixel autofocus camera, and 4GB of internal storage and superior navigation capabilities are bound to attract someone's attention.
If not, there's always Google Maps Navigation on the Nexus One and other Android phones.
The first dual-core smart phone to hit the US should be here before March 6th. Will you be pre-ordering one at $199.99 or have you got your eyes on something else?
Get Set Games passed us a note yesterday to tell us that they are fearing up for the Android release of their popular Mega Jump. After already seeing more than 7.5 million people download the game in six months, the Android version should also do very well.
We've got another Motorola handset to add to the Android repertoire!  Chinese website DIGI.QQ (translated) has the first four pictures of what is being dubbed "Zeppelin" from Motorola.  Unfortunately, the
---