Xoom Owners, Check out the New Keyboard Folio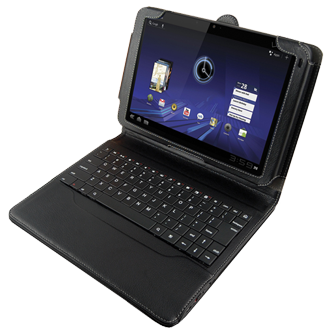 I can almost hear all of you readers that are lucky enough to own a Xoom breathing the word "Niiiiiiiiiiice" right now, and I would have to agree.  Pictured to the left is the newly released "Keyboard Folio" for the Motorola Xoom tablet.  It adds keyboard functionality and protection to the Honeycomb based tablet, making it that much more awesome.  This unit does not come cheap however, $85.00 for a keyboard and sleeve is a bit high.  But hey, you already spent a ton on the Xoom itself.  Happy typing!
VIA: AndroidMixer
We recently came to know about HTC's new name branding, and the two phones under this branding are HTC One X and One S. HTC One X is actually the
After eclipsing Symbian, iOS, and RIM, Android shows no sign of letting up. Where will it stop? One expert believes that number is somewhere around 80 percent.
Sony's next big Android could rival the Galaxy S III and HTC One X.
---