Ematic, a company who bills themselves a leader in value tablets, is today announcing a budget-friendly Android 4.0 tablet. Called the eGlide Prism, the 7-inch device features a 1GHz processor, 8GB internal storage, 512MB RAM, and a microSD expansion card slot. Additionally, the tablet offers a 3D video experience and even comes with 3D glasses.
Naturally we're a little bit skeptical about how this one stacks up against the competition – will it feel cheap in hand or slapped together quickly? With a $157 price tag, we have to wonder if this is raises the bar for bigger competitors or simply shows the ugly side of Android tablets. We're hoping to get our hands on one of these and, if so, we'll gladly share our impressions.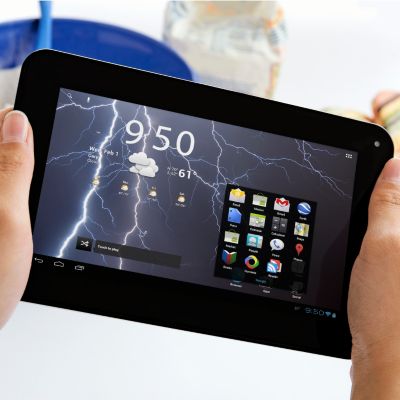 7″ Capacitve LCD Touchscreen Display (800×480)
HD Video Player Supports Up to 2160p 3D HD Videos
1GHz Processor
8GB Flash Memory w/ 512MB System Memory & 5GB Cloud Storage
Android 4.0 Ice Cream Sandwich Operating System
Wi-Fi (802.11 b/g/n) Capability
Front Facing Webcam
MicroSD Memory Card Reader
Built-in Speakers
EMATIC ANNOUNCES THE RELEASE THE EGLIDE PRISM: AN ANDROID 4.0 POWERED 7"
Latest tablet features enhanced gaming and browsing experiences, portability, and powerful productivity
Los Angeles- April 12, 2012 – Ematic, a leader in value tablets, is excited to release its latest Android-powered tablet: the 7" eGlide Prism.  Building on the success of its existing tablet collection, Ematic's Prism enhances gaming and entertainment experiences, and boasts powerful productivity.
"The eGlide Prism is packed with the latest technology designed for an improved user experience," says Roy Rayn, General Manager of Ematic.  "It's also slim in size which makes it the perfect tablet for people who are always on the move."
The eGlide Prism runs on the Android 4.0 Operating System (also known as "Ice Cream Sandwich") for improved multi-tasking, faster web browsing and a refined interface.  The device is optimized for rich media entertainment on its 7-inch touchscreen display.  With a built-in 3-axis gyroscope combined with an accelerometer–the eGlide Prism is capable of advanced motion sensing such as user acceleration, and full 3D altitude and rotation.  The tablet's HD video player supports up to 2160p 3D HD videos.
The tablet's powerful processor allows the user to enjoy browsing the web, networking, and playing games at exceptionally fast speeds.  The tablet was designed for simple and easy navigation:  A truly user-friendly product!  Meantime, the ultra-slim Prism is 9mm thick and weighs only .6 pounds making it ideal when on-the-go.  However, that does not mean the user has to sacrifice a lot of memory.  The eGlide Prism comes with 8GB of flash memory plus 5GB of cloud storage.
The eGlide Prism comes with built-in Wi-Fi compatibility which means Internet connectivity anywhere there is a hotspot.  The tablet also features a front facing camera, built-in speaker, and a MicroSD Memory Card port.  It comes with 3D glasses, a protective sleeve, earphones, wall charger, and a USB cable.
The Ematic eGlide Prism is now available at www.shopnbc.com.  It is on sale for $157.16 (regularly priced $216.00).
Note: Select outbound links may include affiliate tracking codes and AndroidGuys may receive compensation for purchases.
Read our policy
. As an Amazon Associate we earn from qualifying purchases.
---