Google on Wednesday introduced a new version of its Google Assistant app for mobile devices. The refreshed client, available for both Android and iPhone, combines voice and touch-based elements to deliver a more intuitive experience that also closely resembles the other apps getting UI overhauls.
Why It Matters
Google Assistant, first introduced with the Pixel phones in 2016, is the evolution of Google's artificial intelligence. Part on-demand, part push notifications, and a bunch of "we know you better than you know you", Google Assistant manages your calendar, searches, contacts, commutes, and so much more.
The newly refreshed approach follows on the heels of a number of visual refreshes for apps and services. The timing is not coincidental; the Pixel 3 arrives next week and is expected to usher in the best of Google in both hardware and software.
What's New?
Bigger visuals that are easy to glance at quickly.
New controls and sliders to manage your smart home devices. Use the dials to adjust your lights to the right brightness, or the sliders to control the volume of your smart speaker.
An interactive messaging interface so you can use your fingers to add a comma, change a word or make any other quick edits as you compose messages.
On Android phones, it's now easier to access an overview of your day. Open up the Assistant and swipe up on your screen to get curated information based on the time of day and your recent interactions with the Assistant.
Developers and brands now have tools to take full advantage of the phone screen. Starbucks now has thumbnails to select from recommended items on their menus, Food Network has larger images of their recipes, and FitStar uses GIFs to give you a preview of your workout.
Google is giving Assistant bigger visuals, making it easier to identify and use the tools and capabilities. Sliders and dials improve things so that users can more quickly adjust speaker volumes, thermostat temperatures, and more.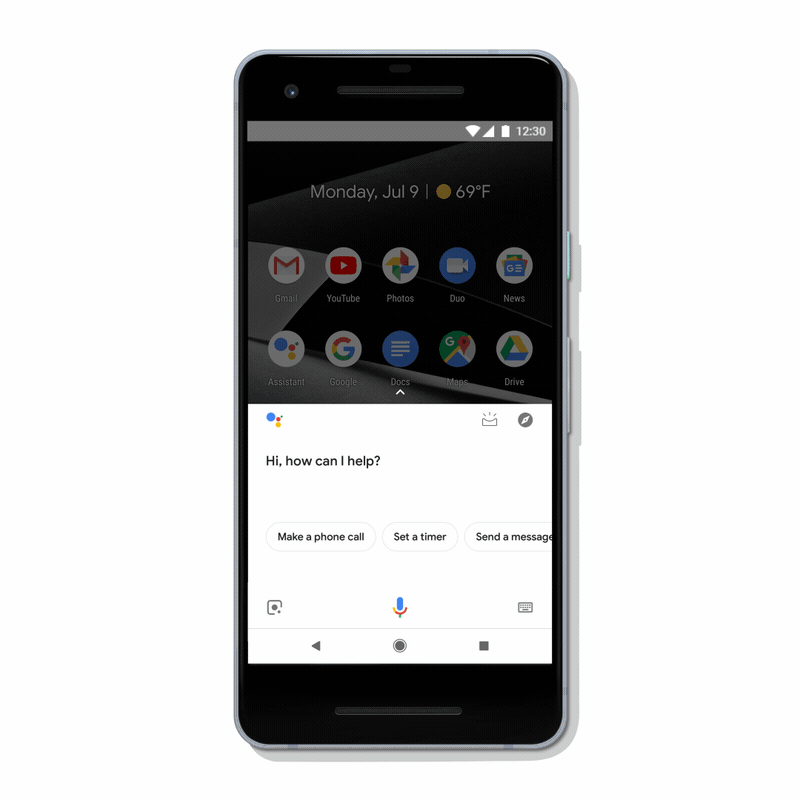 Also cool, and only available Android, it's a breeze to swipe up the Assistant to get curated details on your day. As you might expect, it leverages location and time of day.
Google now offers brands new tools to take advantage of mobile devices for search results. New thumbnails allow Starbucks, for instance, to showcase select items on its menu. Developers and brands can start putting Assistant and its custom results to work for them.
Google Assistant is free to download from the Google Play Store and iTunes.
Note: Select outbound links may include affiliate tracking codes and AndroidGuys may receive compensation for purchases.
Read our policy
. As an Amazon Associate we earn from qualifying purchases.
---