It's no secret that Google's Suite of productivity tools are some of the best in the world. Keep and Docs are some of the most well known products across all platforms, and today, Google is helping to combine the two.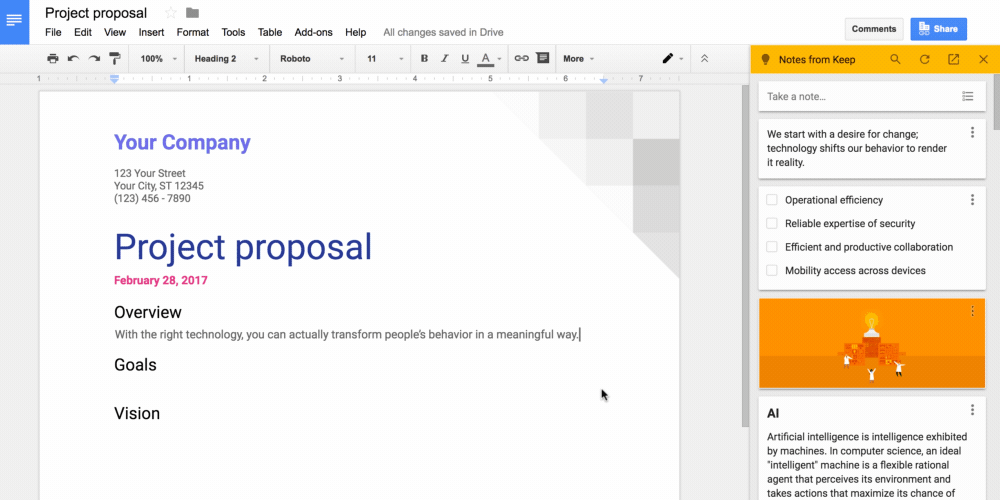 Starting today, when working on a document of your choice, you are now presented with a window with your various Keep notes. From here, you can drag and drop text, lists, and images, into your document.
Here's a breakdown of all the new features:
Drag your notes from Keep directly into your work documents
Easily search your notes in Keep while in Docs to find the information you need to complete your project
Add a new note in the Keep notepad or select text from inside of your document and easily add it to a new note (just right click and select "Save to Keep notepad"). When you open that note in Keep, we'll include a link back to the source document so you can always refer back to it.
If you have a subheading or title for the Keep notes, that will also transfer to the document you're working on. If you close the Google Keep sidebar, but need to open in later, you can do so from the Docs toolbar.
Let us know if you'll be taking advantage of this new feature, of you'll be using some other method to transfer notes.
Note: Select outbound links may include affiliate tracking codes and AndroidGuys may receive compensation for purchases.
Read our policy
. As an Amazon Associate we earn from qualifying purchases.
---