In case you aren't familiar with Todoist, it's a service that allows either a person or group of people organize the tasks that they need to do. For example, AndroidGuys uses Todoist to organize all of the posts that we need to do; I was assigned this post about the Todoist 9 update in Todoist.
If you're the kind of person that uses the service, it's probably a part of your daily life and you're probably thankful for how seriously their development team takes keeping the app up to date with new features, free of bugs, and using the latest design principles as prescribed by your respective mobile OS (in our case, Android). Back in June of last year, Todoist released its Material design update, which took the rather utilitarian gray design and brought it into the current era with vibrant colors and excellent design. Today they "close the loop on Todoist's Material design cycle" and bumping the version number straight up to 9.0.
For the most part, the material design style was already implemented in the earlier update, but Todoist's Android team has been working very hard to make "a much sleeker, speedier experience on all Android devices" through "the design updates, task and project implementations, and UI improvements."
What's in the box update!?
Today's update is a collection of small tweaks and additions that improve upon the already great experience that you get from the Todoist app, which can be summarized by this change log:
(New) Project sorting: sort your tasks in a certain project by name, date, priority or assignee with a single tap
(New) Pinch to add tasks anywhere inside a project
Sub-tasks and sub-projects are now easier to handle by working directly with their parent task
(New) Gorgeous empty screens now show productivity stats like completed tasks for the day
(New) Sharable Todoist Zero screens will appear when users complete all tasks on their list
Updated notification sync: notifications read on other platforms/devices will now be dismissed automatically from your Android device
Faster sync: syncing is now up to four times faster so that users can spend less time waiting and enjoy an increased battery life
Attachments: Todoist now makes necessary photo rotations on Android and syncs the proper horizontal/vertical orientation across all platforms
Extended undo options for drag and drop, project sorting, and 'move to history'
Updated formatting options for tasks, projects, and comments, including emoji shortcuts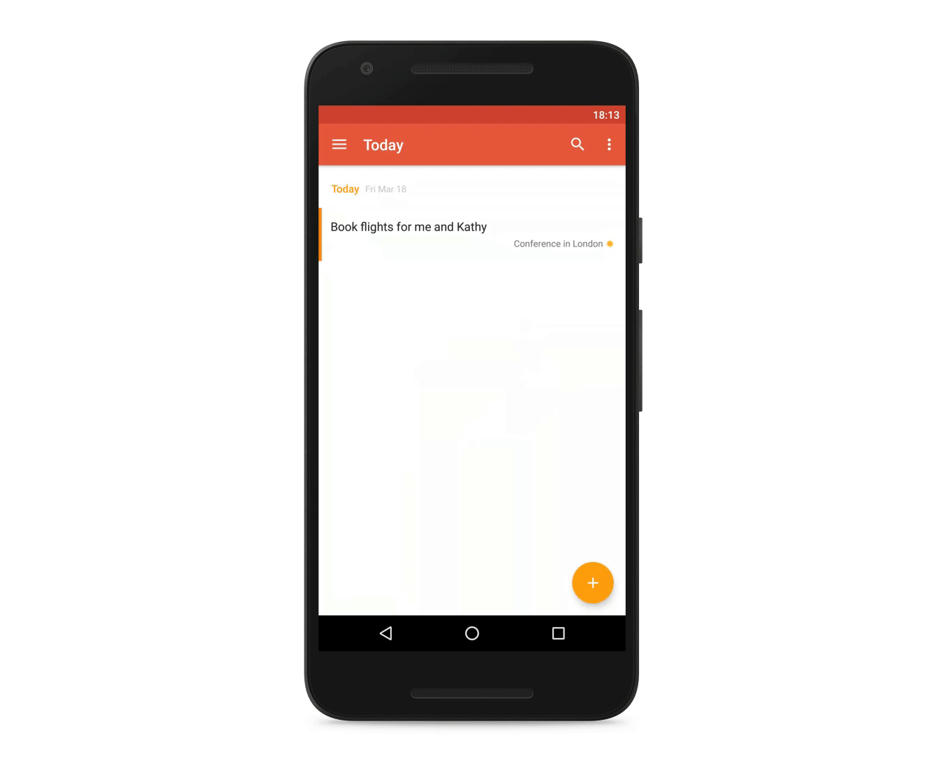 Something that I genuinely strive to see but never will
In addition, they have added "intelligent input" which allows for natural language parsing in 10+ languages. In plain English (no pun intended), that means you can type "Write script for Make Donald Drumpf Again on February 20 #AmazingShowIdeas +JohnOliver," and it will automatically know to assign the task to John Oliver in the Amazing Show Ideas project with a due date of February 20th.
The update also adds support for external keyboards (such as Bluetooth keyboards) for people who cannot (or prefer not to) use a touchscreen when using Todoist for Android.
This type of dedication is what we like to see from developers, as users. That's why late last year Todoist was awarded an "Editors Choice" marking in the Google Play Store. They make applications that not only look and work great but also push the Android platform forward, as a whole.
Goncalo Silva, Todoist's Head of Android said of the subject, "Todoist for Android is now more polished than ever before. The team has really gone the extra mile sweating all the little details. Obsessing over the experience we deliver to our users is one of our trademarks – it's one that led us to become Editor's Choice at the end of 2015, and one we'll continue to nourish as we keep working to set the standard of what Material Design is."
Note: Select outbound links may include affiliate tracking codes and AndroidGuys may receive compensation for purchases.
Read our policy
. As an Amazon Associate we earn from qualifying purchases.
---