The worst part about plugging a phone or tablet into a wall outlet is the simple fact that it takes up an AC outlet.  While this doesn't matter much in the office or at a hotel, this can present a challenge at home.  Maybe you like to charge up your device while cooking in the kitchen; I plug my phone in right next to my bed.  The main issue that I run into is that I generally have to unplug something else or move it to another spot in the room.  Thanks to Newer Tech's Power2U AC Wall Outlet with USB Charging Ports, this is no longer a problem.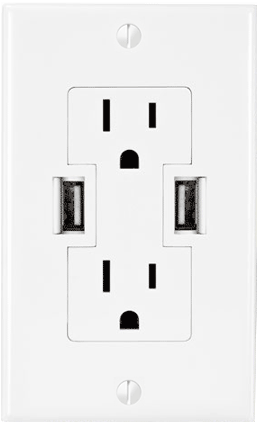 I've fallen in love with this thing in the time since it was installed in our kitchen.  Now I don't have to worry about unplugging the toaster or Crock Pot when I need some extra battery.  This thing, for all practical purposes, adds two USB charging ports to the outlet without increasing its footprint by much.  Ok, to be clear, it is an all new wall outlet, but it provides two USB ports along the side of your existing AC spots.
Installed as almost easily as any other wall outlet, this is the sort of thing I'd like to redo my house with.  I can imagine  this to be the kind feature that hotels, schools, and other businesses would use to offer a better user experience. Think about the last time you stayed at a hotel.  Me?  I unplugged the alarm clock right away and put my phone charger in its place.  Got another device to charge?  Out comes the lamp plug.  The Power2U alleviates this sort of problem.
Considering these are only $14.99 a piece (Amazon), it makes sense to order a few of them at a time.  My recommendation would be to put one in a few of your rooms, starting with the kitchen counter and office.  One next to the bed makes a lot of sense, too. If bulk purchases are in order, you can grab them in 10, 20, or 100 packs through the Newer Tech website.
Features:
Patented design charges iPads, iPhones, iPods, Android tablets and phones, tablet computers, MP3 players, GPS devices, digital cameras, and other USB 3.0/2.0/1.1 chargeable devices without requiring a bulky adapter
Smart Power feature only outputs enough charging power required by the attached device
Energy-efficient, spring-loaded Safety Shutter design turns USB ports off when connecting cable is removed
Uses standard four-pin type-A jack USB cables | Installs on standard 15A electrical circuit
UL/CUL Listed (E339607) – For use in United States & Canada
What we liked: 
It essentially doubles the number of available USB outlets
Nearly same footprint as standard wall outlet
Easy to install, no more work than a traditional outlet
Available in multiple colors, bulk
Room for improvement:
Some have trouble getting this to fit into existing spaces
USB ports only work if the cover is fully open, not always convenient to reach
Where to buy:
Newer Tech offers them for $24.95 a piece, down $5 since they were first introduced.  Look around, however, as Amazon has them nearly half that price right now.  Last we saw, these were in stock and only $14.99 each.
Note: Select outbound links may include affiliate tracking codes and AndroidGuys may receive compensation for purchases.
Read our policy
. As an Amazon Associate we earn from qualifying purchases.
---